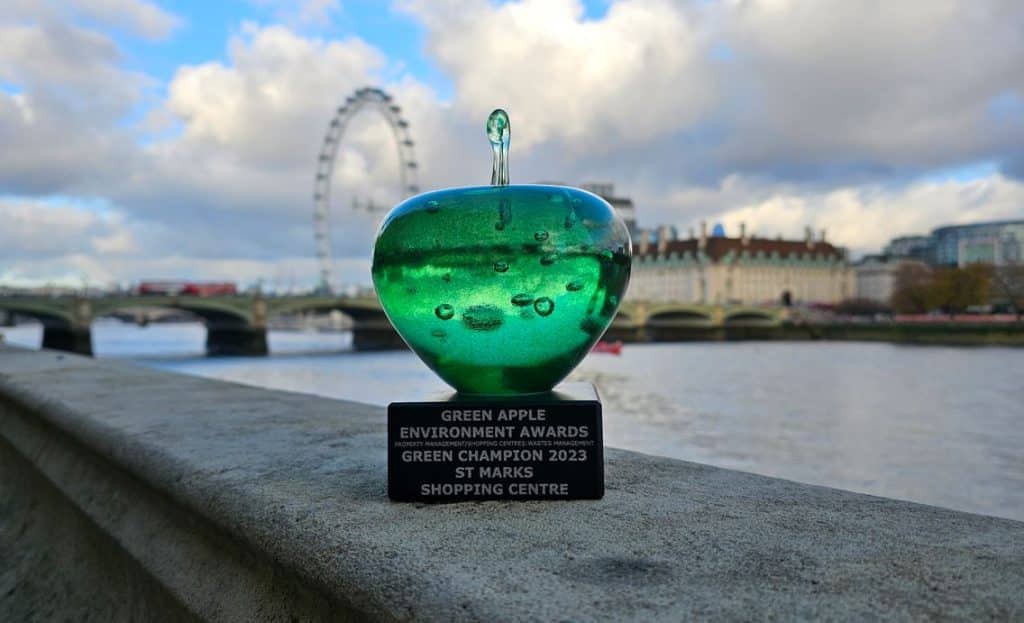 Here at St Marks we are proud to support a wide range of environmental, social and corporate governance campaigns.
Over the years we have won six Green Apple Awards, three of them gold and have more recently been nominated for a Green World Award as well as successfully winning Green Apple Champion 2023 – these awards recognise the best environmental campaigns from around the world. In 2019 we were also awarded the Best Business Award in the Lincolnshire Environmental Awards. We are also proud to have been awarded bronze at the International CSR Excellence Awards in November 2019 and 2020.
Sustainable campaigns, to name a few, include our Gum Drop bins – located throughout the centre on lampposts for shoppers to place their finished chewing gum into – this gum waste is then recycled to create products such as pencils and devices to put your chewing gum in – rather than the ground! We also work with Costa on a coffee cup recycling campaign – whereby we have three-split bins on site for the lid, liquid and the cup. Approximately 1200 cups per week were recycled and this keeps growing! Our retailers also support the environment with their individual campaigns, including Tesco's support for foodbank donations.
In addition to this, we work with local stakeholders and charity partners to support city-wide initiatives, including EBP, Lincoln BIG, Lincoln Kids, Lincoln Fashion Week – raising much needed funds for Macmillan and in 2019/20 we appointed Linkage Community Trust as our charity partner, whereby we raised over £3,000. We have been a member of the Lincoln Social Responsibility Charter since 2019 and we have sponsored an Imp in this year's Sculpture trail with Lincoln BIG. The Imp will be auctioned off in September 2021 to raise funds for St Barnabas Lincolnshire Hospice.
We are also proud to support Purple Tuesday; Purple Tuesday is about creating a step change improvement in the awareness of the value and needs of disabled customers – this takes place annually in November, however, it is important that these improvements are considered and reviewed all year round, so if you have any feedback please do not hesitate to contact us (details can be found on our Centre Info page).
Whilst visiting St Marks you will also find a bike pump located near to the lower ground entrance of PureGym, this is free for you to use, along with our Cycle Storage – to register please visit the Centre Management Office with your photo ID. We also have separate plastic and general waste bins in our gardens, which we kindly ask you to utilise.
We are very grateful to our shoppers for their continued support, and thank you all for working with us to protect the environment.