Let's have some Skele-Fun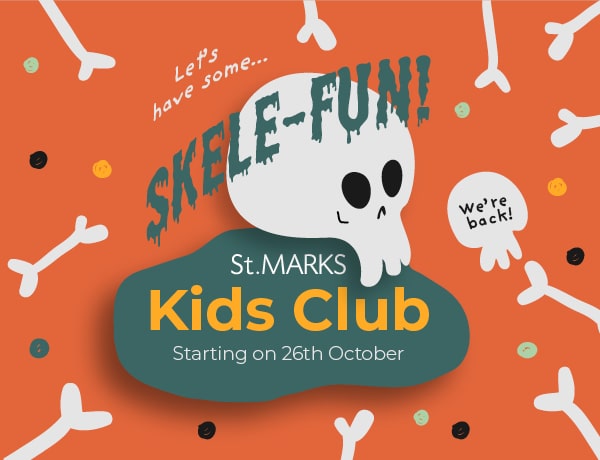 Kids Club is back!
Looking for something to do with the kids this half term? Good news, St Marks is bringing back the Kids Club!
No need to book a space! Just turn up on the day but be early to guarantee your space as places are limited.
Tuesday October 26th 10am to 12 noon
Activity: Spooky Cookies!
Hosted by Back Garden Bakery
Halloween is coming and here is your chance to get creative! Join Back Garden Bakery for a cookie decorating session – cats, witches, spiders – the choice is yours!
Image: to follow at the weekend
Wednesday October 27th 10am to 12 noon
Activity:  Half term Halloween Masks!
Hosted by Creation Station
Complete your disguise by decorating a flocked half face mask.  Colour and design it to be whatever you like.
We'll have chubbie paint markers, paint sticks and glitter to create your designs and then feathers, sequins, stick on bling and streamers to embellish them.
Friday October 29th 10am to 12 noon
Activity: Wand Whittling Workshop
Hosted by The Outdoors Project Lincoln
Join The Outdoors Project for a magical wand whittling workshop. Using whittling tools, natural materials, and a spell-binding array of colourful cores, build an amazing, trail-blazing, wizarding wand. What spell you will cast?